GEOREF is the new revolutionary software product to show i2 Analyst's Notebook entities on a Geographic Information System (GIS).
GEOREF implements a new, unique, method to exploit i2 Power2 semantic types. With a simple drag & drop you can transfer your entities, with geographic semantic tags, from an Analyst's Notebook Chart directly to a map.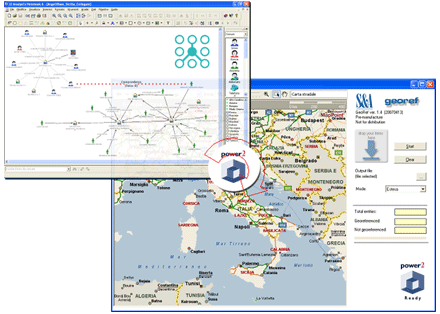 Any entity with semantic types representing geographic information can be used.
GEOREF provides all the functionality to geocode the addresses (semantic tags) and to represent entities onto a map. All operations are completely automated and very user friendly. Nothing to learn. Nothing to configure.
Unique drag & drop semantic information transfer
Easy to use
Fully integrated with i2 Analyst's Notebook
Complete compatibility with i2 Power2 Semantic Types
Integrated geocoding support
Fully internationalizable and customizable
at the moment it is available in English and Italian language

GEOREF works with Microsoft™ Map Point™ and MapInfo™ MapXtreme™ GIS. It can be integrated also with other GIS.
System Requirements
O.S. Windows 2000/XP
i2 Analyst's Notebook version 6.0.55
GIS: Microsoft™ Map Point™ 2006 or
MapInfo™ MapXtreme